Archive for the 'Baby Shower' Category
Hi there and thank you for patiently waiting for the second video. I have been so busy and just have not had time to upload the second video till now.
I used SVGcuts (click on the SVG banner to the right of this post) and search for Summer Street Carnival set. I used the tent box for my carousel.
The centerpieces came out really cute and everybody liked them at the party. The video gives you an idea on how you can make your own.
Next episode – Party Favors!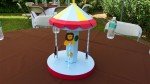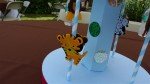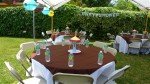 Babies are popular and so are baby showers! Today I start a series of videos showing you how to create a successful baby shower.
The first step is to decide what theme your baby shower will be. I chose a Safari or Jungle themed as the mommy-to-be is having a boy.
The first video will show you how to make the invitation. The themed colors are green, chocolate brown, yellow and orange.
Here are some pictures of the shower:
Here is the video on the card
Invitation supplies
Bazzil Cardstock – baby blue and chocolate brown
Cut Chocolate brown paper in 1/2 to create a 6″x12″ piece. Score at 6″
Cut baby blue mats at 5 3/4″
Stamps: My creative time and Martha Stewart
Inks – Stamping UP
Punches – EK Success- Scallops
Foam tape
Chocolate brown ribbon – Walmart
Green paper – Bazzil – punch 2 3/8″ scallop circle
White paper – Georgia Pacific – punch 2″ scallop circle